Traveling through France with Original Vintage Posters
Traveling can be an extremely gratifying and introspective experience, where we get exposed to amazing sensations often packed in concentrated doses throughout our oh-so-too-short journey. The world is truly magical, with places, people, and experiences that can simply leave us breathless. There are so many things to see and discover, and it's sometimes frustrating that we can't explore more of the world.
We all seek that perfect souvenir to remember those great times during our travels. While the typical souvenirs and postcards do their job, they often loose their shine and are quickly forgotten as we get back to our daily routine.
For people looking for something more meaningful, unique and valuable, original vintage posters can provide a great option for a truly memorable trip memento. Vintage posters, many over a century old, are true works of art, created by some of the most celebrated artists of the day. Hanging the artwork and admiring the sites and adventures they reveal allows us to be momentarily taken to these amazing destinations, whether for the first time or once again.
Take for example France, a country that has always captured the imagination of travelers around the world. Millions of people dream of going to Paris and walking on the Champs Elysees before taking a cruise on the Seine River, discovering the luscious French countryside, exploring the country's medieval towns and majestic castles, smelling the jasmine fields of Provence, or walking through the vineyards of Bordeaux. France has produced some of the most amazing vintage posters over the last 130 years, in fact is considered the birthplace of the advertising poster. Countless posters advertising iconic French brands, regional products, restaurants and cabarets bring back past decades.
Champ Elysees, Paris 1950s
A couple looking at the Seine River, Paris 1937
Vintage posters bring France into our home, reminding us of old journeys and inspiring future travel plans.  We can experience the elegance of Paris' shopping scene with the classic 1923 poster of the Galeries Lafayette, the iconic establishment of one of the most chic cities in the world.
Galeries Lafayette, Paris late 1800s
Galeries Lafayette today, Paris
Galeries Lafayettes Advertising Poster, 1923
We can relive our gourmet experience in France's gastronomic capital of Lyon through the gorgeous Chocolat Des 3 Frères poster from 1901.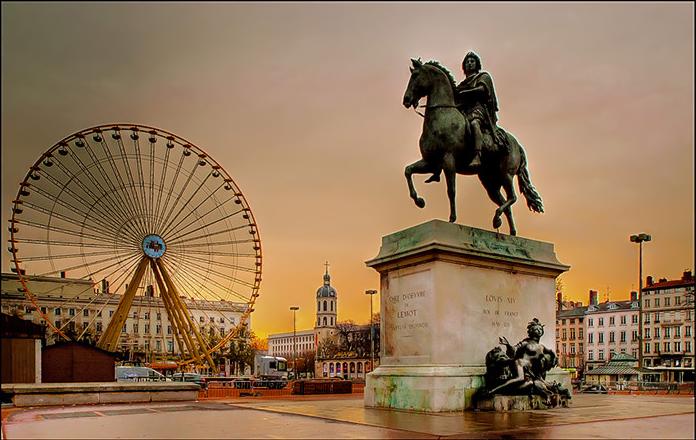 Place Bellecour, Lyon
Chocolat Des 3 Frères Advertising Poster - Place Bellecour, Lyon 1901
Or we can dream about our future intoxicating tasting itinerary with beautiful vintage posters such as Champagne Delbeck de Reims (1910), Pastis Olive de Marseille (1936), or Les Vins de Bourgogne (1916).
Moet et Chandon Champagne
Champagne Delbeck de Reims Advertising Poster, 1910
Pastis en Provence, Henri Bardouin
Pastis Olive de Marseille Poster, 1936
Old French Bourgogne wines
Les Vins de Bourgogne Poster, 1916
Traveling is perhaps one of the most psychologically rewarding activity a person could undergo.  By discovering new places and meeting new people, by discovering ourselves and letting go of the daily routines of our busy lives, our existence is enriched.  Beyond being timeless and elegant works of art to enjoy and admire, original vintage posters can remind us of our of past travels, or awaken a desire to travel and to discover the world first hand. They offer us the unique chance to make an imaginary trip to another place, seeing the destination as it once was in the most beautiful light. 
What is your favourite souvenir from your travels in France or abroad in general?
Posted: Jan 28, 2014 | Tagged: France, souvenirs, travel, vintage posters
comments powered by

Disqus